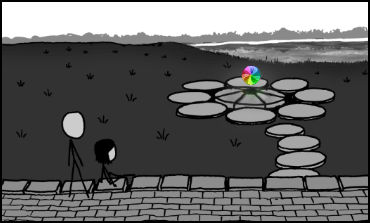 Do you feel my heart beat? It's no game,
Understand? Do you feel the same?
Am I only dreaming
Or is this faint gleaming,
This burning, an eternal flame?
Original comic here
.
I had little clue as to what the comic was getting at, so I limericked the Bangles instead.
UPDATE: I now see that the comic was a tribute to the late Steve Jobs. For what it's worth, you can read my own modest tribute to him
here
.